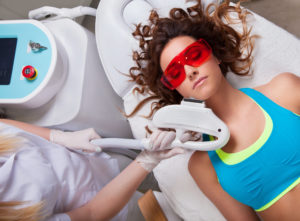 Laser hair removal can free you from the time-consuming process of shaving, waxing, and tweezing to get rid of unwanted hair. But, along with its time-saving benefits, laser hair removal can help you say goodbye to ingrown hairs for good. 
By damaging the hair at the follicle, laser hair removal won't cause ingrown hairs like conventional hair removal methods. But, can this treatment help you get rid of ingrowns that have already formed? Let's find out.  
What Causes Ingrown Hairs?
After you shave unwanted hair, the newly-cut hair can curl and go back under the surface of the skin. The hair may then continue growing, creating a raised, red, and often irritated bump known as an ingrown hair. Tweezing can also lead to ingrown hairs, as it may leave behind a remnant of the hair beneath the skin's surface.  (more…)
READ MORE
Will Laser Hair Removal Work on Ingrown Hairs?